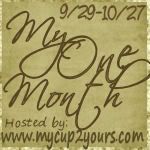 My bloggy friend Genny at MyCup2Yours has something really fabulous going on over at her site. Genny is spending the entire month sharing different readers posts on what they would do if they had just one month to live.

I think I have been putting off writing this post because I think sometimes it is must easier to just keep doing the same things and allowing our tasks to control us. I find I get caught up in trying to tackle the never ending to do list. But you have to ask yourself what if you only had one month what would you do? At first I started writing all of these detailed lists and decided to keep it simple and allow my favorite phrases to say it all! I hope you enjoy some of my favorite phrases!
Live in the moment.
Live the life you love, love the life you live.
Dance like no one is watching.
Will it matter in five years?
Live, Love, Laugh.
Love, Faith, Hope.
I am Blessed.
I am Loved.
The tide will turn.
Walk by Faith.
Would you like to join in? Head on over to
Genny's Site
.